Pride Unbound*London
The place to get the latest info about walking with pups at Pride In London!
The 9th Annual Pups at Pride in London Pre/Post Party
1 view
This viewcount was added July 2023 and might not be accurate.
•
1 bark
Changing room, bag storage, and lots of food!
---
Starts Saturday 6th of July 2019 - 09:00 AM
2019 will be the 9th consecutive year that we've organised for pups to walk in the Pride in London Parade, and the 4th time we've organised a party to go with it!
Draft House Chancery opens at 9am, where we'll have a changing room and free bag storage to keep your belongings secure during the Parade. The bar will be open, and there will be a hot brunch buffet from 10am (see Food & Drink below).
After the Parade, snacks and drinks will be available when we get back to the venue, and a dinner buffet will be on offer from 7pm (see Food & Drink below)!
Snacks will be available during the day as well.
Walking with another group? You're still invited to use the changing area / bag storage, and join us for food before and after the Parade!
If you only have a Pup Party ticket, you're still welcome to use the changing room and bag storage in the morning. We know how hard it is to find somewhere to change in London!
The venue may be closed for a period during the afternoon between the last walking group leaving and the first arriving back.
Party Areas
Soft Flooring
With over 250 square feet of padded flooring for pups to run around on and play, and practice your rope bondage on!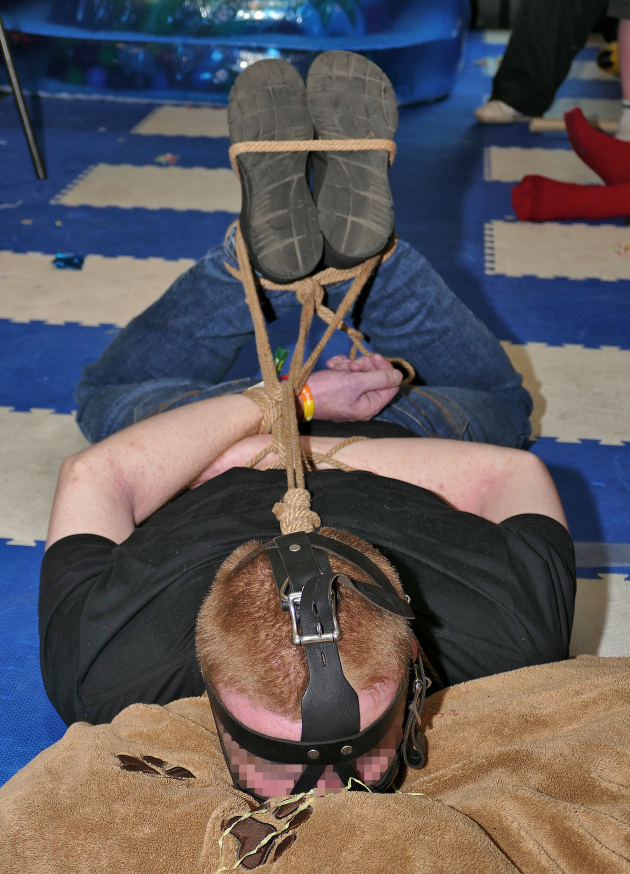 Social Areas
There will be loads of seats, tables and dog beds for you to recover from the Parade, catch up with friends, or eat as much as you want.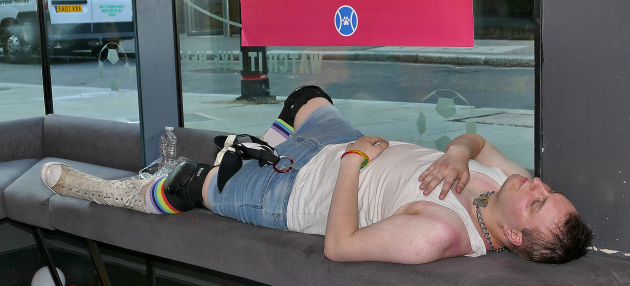 Pup Area
On top of the padded flooring there will also be a ball pit, dog beds, blankets and loads of fun toys to play with!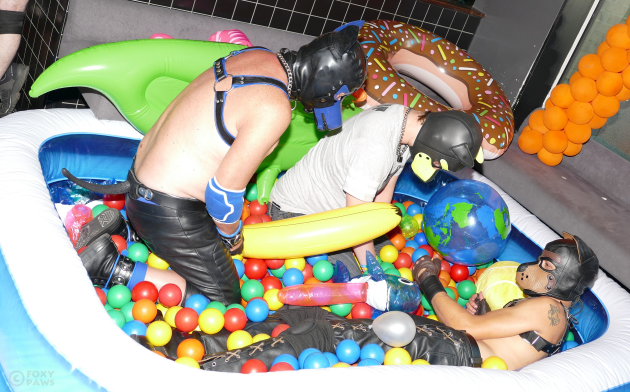 Bar
The bar is separate from the play area so you can order your drinks without the risk of pups throwing balls from the pit at you.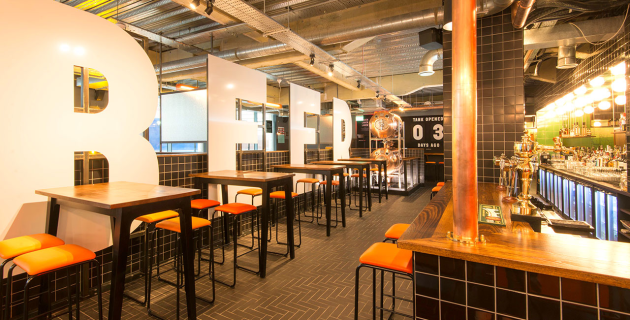 Smoking Area
There is a massive outside smoking area if you enjoy a cigar with their food, or if you want to bark at passing tourists! Outdoor seating if you want to eat outside too.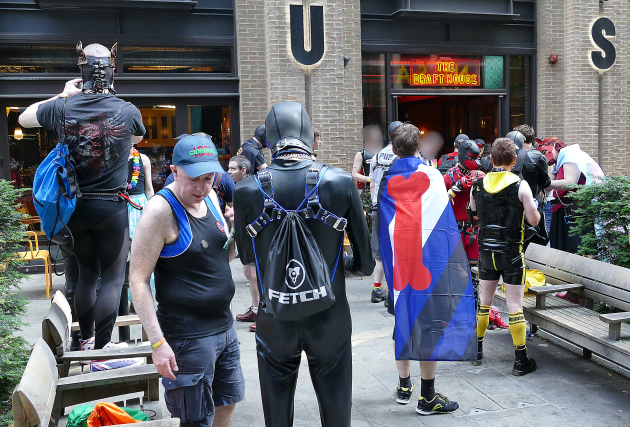 Changing Room and Bag Storage
There's an enclosed changing room so you can get changed at the venue in peace. This also means you can wear your regular clothes when you arrive and when you're ready to go leave. You can then check your bags into our free cloakroom to keep your belongings safe throughout the day. Please don't leave any belongings in the changing area though!
Party Food & Drink
This year, we'll have not one but TWO buffets, so you can eat both before and after the Parade. Snacks and drinks will be available throughout the day. Please note the brunch is NOT included in the dinner ticket and must be bought separately.
Before the Parade, the brunch buffet will include:
Sausages (GF, DF)
Bacon (GF, DF)
Scrambled egg (GF, some will be made dairy-free and clearly labelled)
Cooked tomatoes (GF, DF, V)
Mushrooms (GF, DF, V)
Hash browns (GF, DF, V)
Vegan sausages (GF, DF, V)
After the Parade, the dinner buffet will consist of:
Burgers, including Smoked cheddar cheeseburgers, chicken burgers, and vegan veggie - burgers (dairy-free without cheese)
Buffalo chicken wings (GF, DF)
Chicken goujons
Onion rings (DF, V)
Vegan burgers (DF, V)
Buffalo cauliflower wings (DF, V)
Fries/sweet potato fries (GF, DF, V)
House salad (GF, DF, V) -CAKES!!!!
If you have any dietary requirements, please let us know so we can accommodate you. All food will be nut-free. Vegan, Halal, Dairy-Free and Gluten-Free options are available and will be clearly labelled. Some food items may change.
The venue sells a colossal collection of beers, ciders and ale (imported and brewed on site), as well as a range of cocktails, wines and soft drinks!
Important Times
Doors open: 9am
Brunch buffet served: 10am
Dinner Served: 7pm
Doors close: Midnight
Tickets
Walking with the Pups: FREE
Pre-Booked Ticket: £25
On the Door Ticket: £30
Brunch Buffet: £7.50
Pup Out London annual pass holders will get £5 off the on-the-door prices.
Raffle
We'll be holding a raffle during the event, with all proceeds being donated to Stonewall Housing, an LGBT+ Homeless charity. Prizes have all been donated to the event by the following companies, with more to come!
Puppy Pride
Pup Out London
Bad Dragon
CloneZone
Fetish Freak
Libidex
Prowler Red
Sheets of San Francisco - A Neoprene Throw
Refunds
Refunds can be made up until the 15 June. After this time no further refunds will be made.
BY BOOKING A TICKET YOU AGREE TO BE ADDED TO A MAILING LIST. WE WILL USE THIS TO INFORM YOU OF ANY CHANGES THAT MAY HAPPEN AND TO CONFIRM CHANGES. WE'LL ALSO LET YOU KNOW WHEN 2020 TICKETS ARE READY!
Puppy Pride Store
There will be a small stall from Puppy Pride accessible by the cloakroom which will have most of the exclusive items and t-shirts that they have. They'll all be there for you to look at and buy during the event, and there will even be a discount on everything!